4 Ways to Promote Wellness in the Workplace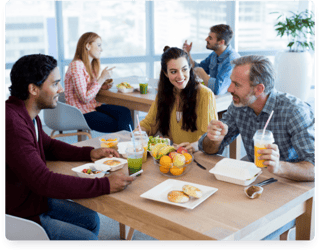 From attracting top talent to improving employee morale and reducing turnover, there are many reasons to promote wellness in the workplace. Not only can better mental and physical wellness improve employees' quality of life, but wellness can also have a significant positive impact on their work performance.
While there are a variety of approaches to encourage employee wellness, the most effective focus is channeling the power of connection. Here are four ways you can use connection to take your employee wellness program to a whole new level.
1. Intrinsic Motivation
The idea of an employee wellness program may be appealing on the surface, but many company-wide initiatives fail because they do not receive a satisfactory level of employee participation. Unfortunately, "participation" is where most programs focus, when the reality is that participation in a program and engagement in life changes are two very different things.
To encourage long-term engagement, a wellness program must connect with individuals on a deeper level, meeting each employee where they are and personalizing their experience. Their motivation, then, becomes intrinsic.
While participation may be a matter of simply showing up, engagement is the connection between the external actions an individual performs and their intrinsic motivation. A wellness program that encourages true engagement is far more likely to create lifelong change.
Wellvation's ManageWell™ platform accomplishes this by identifying each employee's preconceptions, addressing both how they think about their present wellness and their willingness to get healthier. Our proprietary platform allows each employee to explore sustainable lifestyle changes. It then creates an individualized success plan that shows them attainable goals and provides a clear path to reaching them.
2. Work/Life Balance
In a post-pandemic world, work-life balance has become a significant topic. Many employees are now focusing more on their health and wellbeing and prioritizing their family and personal lives as much as their work obligations. Despite this shift, many employees continue to put in long hours, and studies show that approximately 52% of the U.S. workforce is experiencing burnout.
Today, many employees who feel that a positive work-life balance is not possible have disengaged from the company culture and only do the bare minimum. A recent Gallup poll showed that today's employees have the lowest levels of engagement in nearly a decade.
Employers who wish to reverse this trend must take steps to actively show that they value their employees beyond the contributions they make to the workplace. This includes creating a company culture that prioritizes mental and physical health and focuses on the whole person rather than the employee, minimizing burnout.
Creating a culture of health that encourages positive daily practices and lifestyle choices can help connect employees' work and home lives in a beneficial way. Studies show that happy employees are 12% more productive than unhappy employees, and companies with a satisfied workforce experience 71% less turnover. Healthy, happy employees also miss fewer days of work and have fewer health-related insurance claims.
3. Community
Creating a strong sense of community helps connect employees to each other. It also gives them an outlet to actively support one another's strides toward improving their health and wellness.
Wellvation's ManageWell™ platform uses integrated social forums to help build connections and communities. It also provides the option to create group activities that go far beyond the basic step challenge. These types of group events and social connections help increase engagement while also creating a sense of inclusion for all team members, no matter their fitness level.
4. Wellness Programming
Implementing an effective employee wellness program allows you to create a connection between your employees' wellness needs and your business objectives by reinforcing the value you place on each individual member of your team. However, simply offering a wellness program may not be enough to create the desired effect.
It's critical to choose an employee wellness program that takes a unique approach and delivers in a way that makes a real difference in employees' lives. By doing so, you'll demonstrate that you have made your employees' personal wellness a priority.
Creating Connections to Support Your Success
Wellvation works with you to create your organization's employee wellness strategy, allowing you to create a program that aligns with your vision. Your program also integrates data and research from The Mayo Clinic and provides personalized plans that address each participant's health risks and perceptions.
Whether you're thinking about implementing a program for the first time or you're transitioning from another platform, Wellvation makes the process smooth and straightforward. We'll help you define and implement actionable key performance indicators, so you can make sure your wellness program consistently delivers the results you're looking for.
Interested in learning more about how Wellvation can help you use the power of connection to promote wellness in your workplace? Schedule a demo today to learn more.